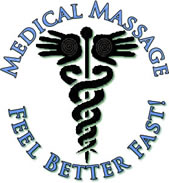 Xerlan and Christopher Deery are very experienced working with many clients with medical issues. They have been honored to work with the medical and rehabilitation departments of several hospitals, and have been a fixture at the Oklahoma Academy of Family Physicians Annual Meeting, The Oklahoma Nurses Association Annual Meetings, and have participated in Grand Rounds at more than one hospital. They have worked with Cancer Treatment Centers of America Tulsa in the Oncology Rehab Department, with several Physical Therapy centers, and understand how to work with the medically frail and pre-and post-surgical clients.
But not all medical issues concern frailty – Xerlan and Christopher use their skills preparing  people for many different forms of surgery, as well as working with people after several different types of medical procedures. Specific massage techniques blended with lymphatic drainage based on the time frame of the surgical procedure and healing process, can be indicated for some medical patients. Special attention is taken to insure that the massage techniques used are appropriate and are specific to the surgery. 
Pain management, oncology, orthopedics and scar tissue are also some of the focuses that some massage therapists target when discussing  massage for medical issues. Each demands specific focus and study. Not every massage therapist has the education and  experience to be effective when working with medical issues. Xerlan and Christopher Deery of Phoenixville Massage & Bodywork do.
Lymphatic Drainage Therapy in Surgery Recovery
Lymphatic Drainage can effectively alleviate the edemas, chronic inflammation and pain of many musculoskeletal and conncective tissue disorders. Some studies have shown that substances injected into joints are removed, at least partially, by the lymphatic system.
Many benefits can result from lymphatic drainage before and after surgery. Use in this setting can decrease edema, pain and inflammation. Lymphatic drainage also can promote tissue regeneration, reducing formation and severity of scars which can be unsightly and sometimes painful. One can see this tissue-regenerating effect in treatment of burns, accelerated wound healing with fewer complications, bone fractures and even positively affecting stretchmarks, especially in their early stages.
Pre and post surgical patients can benefit from lymphatic drainage in a variety of ways. We encourage you and your physicians to incorporate these techniques into your recovery plan as it is a very valuable serivice in your healing process.
Those facing surgery will find that working with the lymphatic system  offers a myriad of benefits. For optimal results it is recommended that lymphatic techniques be applied for one or two sessions prior to surgery. This process promotes drainage of fluids and stimulates the immune system and the the autonomic nervous system. It is important to drain and stimulate the lymphatic system before is is challenged, and possibly decrease spasming as a result of surgical trauma and medications. Surgeons may also find it easier to make an incision through clean, more fluid tissue, particularly in any sort of esthetic surgery. This may create a higher chance for a nicer approximation of the scar .
Lymphatic drainage therapy can begin with the approval of the physician— as long as there are no contraindications (especially infection).