Xerlan and Christopher Deery are experienced and educated in a broad number of styles of massage and bodywork. Their focus is you – your body is their business.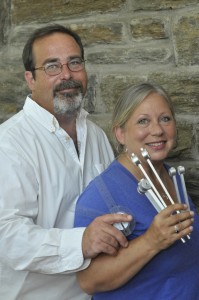 Not every massage client is the same, and understanding that is the reason that Xerlan and Christopher have studied so extensively. You may notice that certain somewhat popular forms of bodywork are missing from their massage and bodywork 'toolbox'. Energy techniques such as Polarity Therapy, Reiki, or other forms of spiritual healing are not within their repertoire. They choose to focus on evidence based, outcome based techniques such as Myofascial Release, Passive Trigger Point, Lymphatic Drainage, and other techniques that have empirical evidence foundations. If you choose to pursue a bodywork session that is not as physically demanding, Xerlan and Chris are trained in more subtle techniques such as Soft Touch/Deep Tissue, Acupressure, and Body Tuning. They both are very accomplished and skilled MassageTherapists, but just as every massage client is unique, so are Xerlan and Christopher.
Xerlan and Christopher Deery offer you the opportunity to experience better health through therapeutic massage and bodywork, tailored to you and your specific needs.